AIR NEW ZEALAND CARGO BOOSTS AUSTRALIA PRESENCE WITH ACP WORLDWIDE
November 18, 2022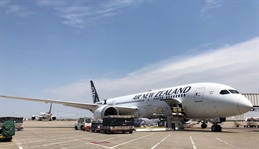 Air New Zealand is strengthening its presence in Australia by tapping ACP Worldwide Ltd as GSA (General Sales Agent – Cargo) for the carrier in key Australian markets including Adelaide, Hobart, Cairns and the Gold Coast.
The appointment allows ACP to work with existing frontline relationships and develop new business in those markets, enhancing the Air New Zealand offering.
In a statement, ACP said that through it, the airline's customers will be able to obtain rates and access to over 100 60 flights per week out of Australia to New Zealand.
This will include the airline's domestic & international network including destinations to the Pacific Islands, Asia, and the USA.
"After a long history of success as the leading GSA in this market, we are absolutely stoked to be able to continue to add a fantastic product such as Air New Zealand Cargo to our customer airline profile in this region," said Ross Di Lizio, regional director.
General Manager Australia for ACP Worldwide, Joe Galic noted that "Air New Zealand Cargo is an expert when it comes to developing custom solutions for cargo across the Tasman, so we look forward to providing the cargo solutions that may need extra care and attention from those key origins."
Sandro Penzo, Air New Zealand Cargo manager Australia, also welcomed the ACP Worldwide appointment.
"We are confident Joe and his team have the experience and expertise to make the most of local conditions and are looking forward to working together to help get cargo to markets around our network," Penzo said.