CATHAY CARGO INTRODUCES REVAMPED TEMPERATURE-SENSITIVE SOLUTION
November 21, 2022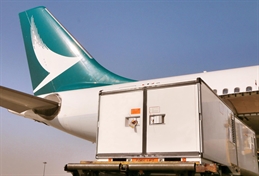 Cathay Pacific Cargo is consolidating and refreshing its comprehensive solution for pharmaceutical customers under a new name, Cathay Pharma, and making it easier to identify all of the possible options for pharma shipments in a more streamlined way.
The refresh ⁠— which includes Ultra Track, the Vaccine Solution, and the revamped Priority solution, follows several years in which Cathay Pacific Cargo has brought its innovation to meet the evolving needs of the pharmaceutical and biotech industries.
"With these developments, we felt this was the ideal time to refresh our specialist shipment solution for our pharmaceutical customers. We understand all too well the potential costs in lives and dollars if pharmaceutical shipments don't arrive in perfect condition, and want to ensure that we continuously improve and adapt to industry trends and developments as they happen," said Tom Owen, director of cargo.
Cathay Pharma is subdivided under two simplified headings – Active and Passive. The Active solution uses 'active' containers with thermostatic mechanisms, while 'Passive' uses passive coolants and insulation to maintain temperature and both include expedient ground handling and priority tarmac transfers, to limit the risk of temperature excursions.
Cathay Pharma also offers four transportation temperature ranges to suit the most common types of pharma shipments, including ERT – extended room temperature: +2°C to +25°C – which is newly available in response to industry demand from customers.
Cathay Pacific Cargo offers containers from seven supplier partners able to achieve specific temperatures in an operating range from as low as -80°C to +40°C.
Cathay noted that customers making a Cathay Pharma booking can follow their shipment's progress and condition with visibility and 24/7 proactive mitigation from the OCC offered by the Ultra Track service using our Bluetooth data loggers, with the option of data integration via Application Programming Interfaces (APIs) conforming to IATA's ONE Record standards.
"The Cathay Pacific Cargo Terminal has recently opened Hong Kong International Airport's largest dedicated pharmaceutical-handling centre, doubling the terminal's temperature-controlled storage and further enhancing its pharmaceutical capability," the statement added, noting that every aspect of the shipment journey at the carrier's Hong Kong hub has been CEIV Pharma-certified across the airport community since 2017. 
The facility includes truck docks with inflatable insulation to maintain ambient temperatures during loading, moveable power points to recharge containers, and monitoring systems which enable real-time temperature and humidity management.