FINAL BOEING 747 JUMBO JET LEAVES FACILITY AFTER 50-YEAR RUN
December 7, 2022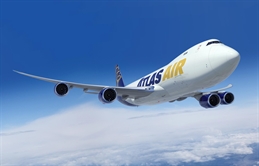 The last Boeing 747 airplane has left the American planemaker's facility in Everett, Washington marking the end of an era for the "queen of skies."
The B-747 jumbo jet has been in operation for 50 years before the very last plane was rolled off Boeing's assembly line on December 6. The maiden flight of the B-747 took place in 1969.
The final 747 — a 747-8 Freighter — is scheduled to be delivered to American cargo carrier, Atlas Air Worldwide Holdings in early 2023 after its test flight and paint job in Portland. It will then undergo standard testing of fuel and other systems. Atlas Air purchased Boeing's last three 747s.
"With Atlas Air taking delivery of the final 747s for its customer Kuehne+Nagel, this iconic Boeing airplane will continue to move cargo around the world for decades to come," said Kim Smith, vice president and general manager of the Boeing 747/767 Program.
"As we say goodbye to the 'Queen of the Skies, we're proud of her legacy as an airplane that propelled aviation innovation and later laid the foundation of our family of freighters," Smith added.
Atlas Air has said in a statement that it will name the very last 747-8F 'Empower.'
Aviation analytics firm, Cirium, said there are only 44 passenger versions of the 747 still in service but there are still 314 747 freighters in use.
British Airways retired its entire Boeing 747 fleet immediately in 2020 due to the continuing downturn in travel caused by the ongoing coronavirus pandemic. 
"It is with great sadness that we can confirm we are proposing to retire our entire 747 fleet with immediate effect," the airline said then. "It is unlikely our magnificent 'queen of the skies' will ever operate commercial services for British Airways again due to the downturn in travel caused by the Covid-19 global pandemic."
Qantas Airways also announced its final Boeing 747-400 flight on July 22, 2020, marking the end of service of its Boeing 747 jumbo jet fleet.