SCHIPHOL COMMUNITY CREATES PHARMA GATEWAY AMSTERDAM
March 18, 2016
The air cargo community at Amsterdam Airport Schiphol has launched Pharma Gateway Amsterdam, a closed pharma-chain programme which will be obtaining the Center of Excellence for Independent Validators in Pharmaceutical Logistics certification from the International Air Transport Association.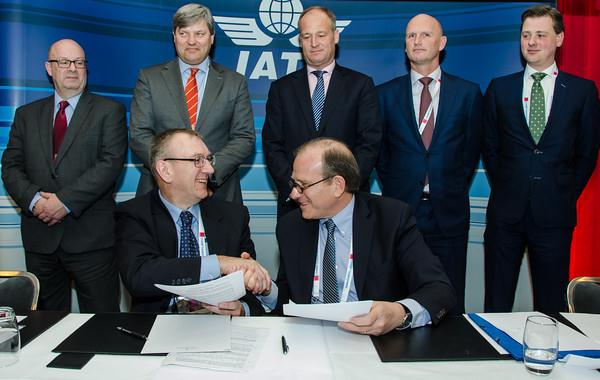 According to Air Cargo Netherlands, the Dutch industry association behind the initiative, the project aims to support a certified track from the shipper all the way to the consignee, including the unloading of aircraft, ramp transfers, first-line handling, second-line handling and haulage to the consignee or distribution centre.
"Pharma Gateway Amsterdam goes well beyond a simple marketing programme," said Ferry van der Ent, director of special programmes at Air Cargo Netherlands [seated, left in photo], during an announcement at the IATA World Cargo Symposium in Berlin. "This new body is tackling the entire proposition of Schiphol Airport for pharma manufacturers, and is commercially neutral.  We'll provide a transparent and qualified process, which can be fully monitored. We are targeting quality and transparency by closely linking all service providers, and setting uniform standards and procedures. At the same time, we'll continue to offer shippers and their forwarders a choice of partners in their new, closed supply chain."
Van der Ent added that company training will start in two weeks' time.
Marcel de Nooijer, executive VP of KLM Cargo [standing, second from left in photo], said that Amsterdam's home airline was very dedicated to the transportation of pharmaceuticals.
"There's a commitment to go further, and that's why we think this is a great initiative," said de Nooijer. "We shouldn't do this on our own. This industry stands together in terms of cooperation, and we feel that if we can accrue all systems together in the right way, then we will remain the leader of the pack in Europe."
The programme has already secured Worldwide Flight Services, dnata, Swissport, Air France-KLM-Martinair Cargo, De Jong Special Services, D.J. Middelkoop & Zn., Jan de Rijk Logistics, IJS Global/GEFCO, VCK Logistics, Yusen Logistics and Cyberfreight as members, and is expecting more companies to join.
Collective real-time monitoring on the ramp is planned for the future, according to Air Cargo Netherlands.