KOREAN AIR OPERATES CHARTER FLIGHT TO TRANSPORT RELIEF SUPPLY TO TÜRKIYE
March 20, 2023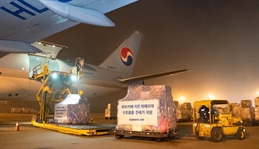 Korean Air operated a special charter flight departing from Seoul bound for Istanbul to transport relief supplies for the Türkiye earthquake.
The Boeing 777 freighter carried 45 tons of relief goods ranging from tents to sleeping bags and blankets and will be delivered to those affected by the earthquake through the Türkiye's Disaster and Emergency Management Authority (AFAD).
In a statement, Korean Air said the special flight was organized in conjunction with the Ministry of Land, Infrastructure and Transport of Korea and the Korea International Cooperation Agency (KOICA) to send humanitarian support.
"Contributing to the communities we serve is one of our core values, and we are grateful to play our role in the delivery of vital relief goods to Türkiye," Korean Air said.
In February, Korean Air's holding company, Hanjin KAL, also donated US$500,000 to Türkiye earthquake relief efforts for local relief activities and damage recovery.
Based on its extensive global network, Korean Air noted that it has actively participated in relief activities by providing free-of-charge transport of humanitarian supplies to disaster zones around the world, including the dam collapse in Laos (2018), floods in Peru (2017); cyclone in Fiji (2016); Kumamoto earthquakes (2016); floods in Myanmar and earthquake in Nepal (2015).