CHALLENGE GROUP UNIT HANDLES 7,000 HORSES AT LIÈGE AIRPORT IN 2022
March 20, 2023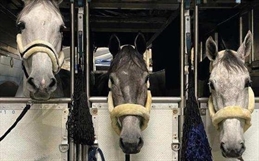 Challenge Group said its subsidiary, Challenge Handling, has facilitated 7,000 horses through the Horse Inn at Liège Airport in 2022 and onto charters flying to the world's equestrian events at destinations such as Doha, Mexico, Miami, New York, or Shanghai.
In a statement, it said that Challenge Handling has handled from racehorses to dressage or thoroughbreds.
"The Challenge Group subsidiary has been running the Horse Inn since the state-of-the-art facility was opened in 2016. It is the sole operator serving the entire Liège cargo community and enjoys an excellent standing among leading specialised horse shippers, forwarders, and international airlines, alike," Challenge Group said.
It added that this reputation reaches beyond the Belgian borders as European horse transports to the world's leading events primarily pass through the Wallonian airport.
"The infrastructure we have at the Horse Inn is unique within Europe," said David Alexis, general manager of Challenge Handling in Liège.
"Every aspect, from the size of the 55 individual horse stalls to the specific type of feed and cleaning products, is in alignment with the strict regulations and requirements stipulated by leading equestrian bodies."
Alexis noted that horses are highly sensitive and valuable, requiring complex handling and ultimate comfort, particularly if they are being flown to compete in prestigious events.
Challenge Group said not only does the Horse Inn serve as a place for horses to rest prior to their flight or further road transport, but it also offers affordable accommodation for their accompanying grooms, with good connections to restaurants and other facilities in the vicinity.
Around-the-clock access to vets and dedicated customs procedures complete the service. Liège's proximity to Europe's largest airports, such as Amsterdam, London, Paris, and Frankfurt, adds to its suitability.
"The well-being of any animal is in our corporate culture. Respect and the correct care and protection is ensured by assiduous, trained staff, who are experts in handling all kinds of animals — with the strict exception of any animals intended for laboratory use, as per Challenge Group's ethical code of conduct," said Hay Sasson, chief operating officer of Challenge Group.
"Our expertise has meanwhile established Liège as one of the best gateways in the world for horses. Not only is Challenge Handling an Olympics partner for horse transports to locations outside Europe, but we were also proud, in 2022, to be appointed to continue to run the Horse Inn for another five years."
"Our Challenge Airlines, too, are regularly entrusted with some of the world's most valuable horse transports. In 2022 we carried around 5,000 horses on our own aircraft," Sasson added.
Challenge Group noted that Challenge Airlines IL was awarded CEIV Live in September 2022, and Challenge Handling's separate, official certification is due to be presented later this year.