BSI REVEALS TOP SUPPLY CHAIN RISKS IN 2015
March 24, 2016
The British Standards Institution's Supply Chain Solutions has published its 2015 Global Supply Chain Intelligence Report, laying out the cross-border issues that affected supply chains across the world and those that will threaten the industry this year.
"Companies are facing an increasingly wide range of challenges to their supply chain, from human rights issues to acts of violent theft and natural disasters," said Jim Yarbrough, programme manager of Global Intelligence at BSI. "Such complexity creates extreme levels of risk for organizations, both directly affecting the bottom line but perhaps more seriously, hidden threats to the supply chain which, if ignored, could do serious harm to a company's hard-earned reputation."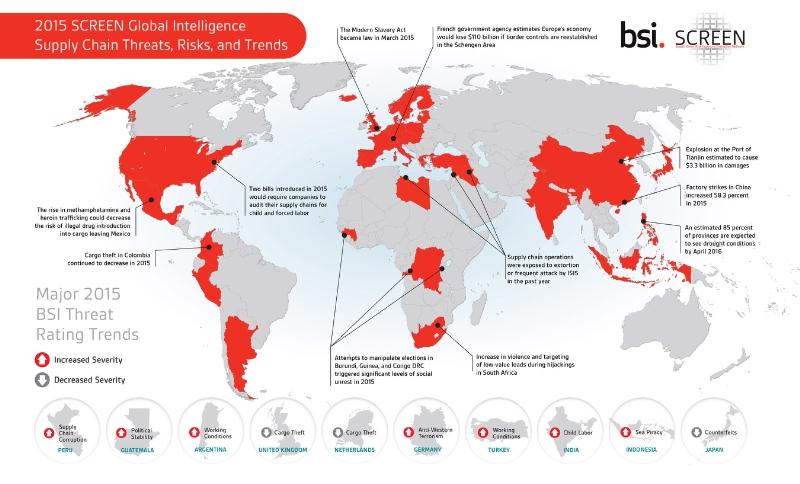 According to the report, cargo theft in 2015 resulted in losses of almost US$23 billion around the world. In particular, it noted that vehicle shipment thefts have become increasingly common in China, with a series of in-transit thefts occurring recently along the G45 highway, while criminal gangs in India came up with new techniques to steal goods without breaking customs seals.
Terrorist activities caused disruptions in France, Belgium and the Middle East, said the report.
Other factors that affected supply chains include extreme weather events, political and social unrest, health crises and labour issues.
The biggest threats to the global supply chain in 2016 include growing cargo theft, continued tensions in the South China Sea, ongoing conflict in Syria, the slowing Chinese economy leading to more labour unrest, weather disruptions and global disease outbreaks such as Zika and Ebola.
The report is based on data from BSI's Supply Chain Risk Exposure Evaluation Network, which analyzes risk factors in 204 countries, according to the BSI.