GERMANY OKS COSCO SHIPPING PORT'S HAMBURG TERMINAL STAKE ACQUISITION
May 12, 2023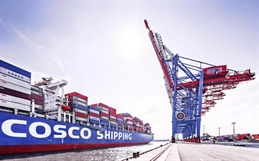 German authorities have green-lighted the planned 24.99% stake acquisition of Chinese company COSCO Shipping Ports Limited (CSPL) in Container Terminal Tollerort in the Port of Hamburg.
In the announcement, German container terminal operator, Hamburger Hafen und Logistik AG (HHLA) said all issues within the scope of the investment screening process were "clarified jointly in intensive, constructive talks."
"Hamburger Hafen und Logistik AG (HHLA) welcomes the decision of the German government to approve the 24.9 percent minority shareholding of the Chinese company COSCO Shipping Ports Limited (CSPL) in Container Terminal Tollerort (CTT)," HHLA said.
It noted that the decision will now enable CTT to be expanded into a preferred handling location for HHLA's long-standing customer COSCO, where freight flows between Asia and Europe will concentrate.
China is currently Germany's and the Port of Hamburg's largest trading partner with around 30% of the goods handled in the Port of Hamburg coming from China or going to China.
"CSPL's minority shareholding thus secures employment and boosts Hamburg's national and international importance as a logistics hub as well as Germany's position as an industrialised nation," it added.
The announcement said that HHLA and CSPL will finalise the transaction soon.
Cosco Shipping Ports said the transaction will bring "more shipping and logistics resources to the terminal for improving its competitiveness."
Separately, CSPL said that the German government confirmed the approval of its equity interest purchase of CTT on May 10, 2023, from HHLA.
CSPL noted that the go signal was based on the "approval conditions" given in October 2022 by the German government.
"Within the trend of globalisation, trade and economic ties between China and Germany will continue to develop further, and demand for maritime transport from both countries will continue to increase," it added.
COSCO Shipping Ports explained that Hamburg Port's CTT is "well-positioned" geographically, in close proximity to major industrial hubs in Germany.
"The completion of this transaction will help strengthen the relationship of both parties from every aspect, and both parties will utilise their expertise and advantages in their own areas," CSPL added.
The Hong Kong-based port operator said it will leverage its leading position in the global terminal operator industry and the advantages of its global terminal network, as well as the synergy of COSCO SHIPPING Group, to introduce shipping companies and logistics industry chain to enhance the business competitiveness of the terminal.
"The Company believes that the completion of this transaction will further enhance the service capability of CSPL around the world, strengthen CTT's position as a global trade hub, facilitate regional trade and economic development and bring benefits to the global economy," it added.