HONG KONG SIGNS MOU WITH GUANGZHOU FOR GREATER BAY MARITIME COOPERATION
May 22, 2023
The Hong Kong Transport & Logistics Bureau has signed a Memorandum of Understanding (MoU) with the Guangzhou Port Authority (GPA) to further promote Greater Bay maritime cooperation.
The deal aims to promote the cooperation, publicity and promotion of port and maritime services between Guangzhou and Hong Kong in order to provide higher quality, more efficient, fairer, more sustainable and safer port and maritime services and protection.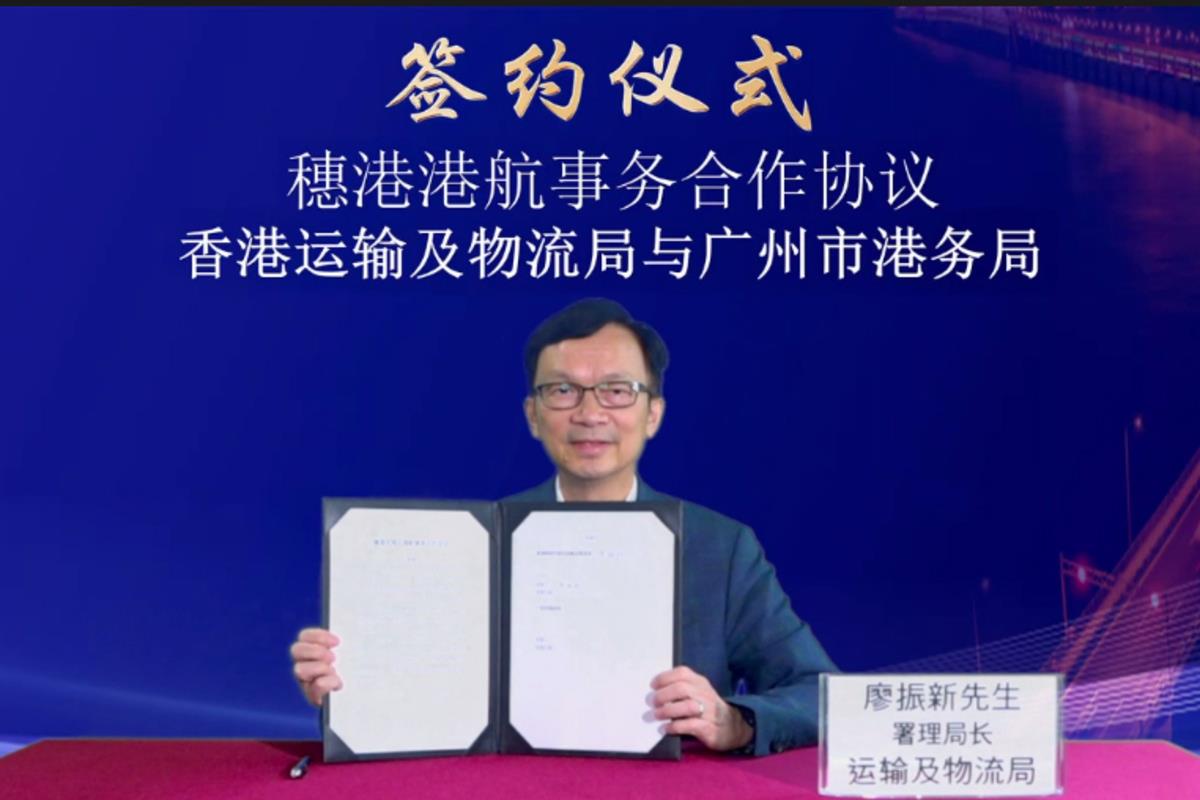 Liu Chun-san, acting secretary for Transport & Logistics signs the MoU on Greater Bay maritime co-operation via video conferencing. (Source: news.gov.hk)
"It strives to turn Guangzhou and Hong Kong into a leading domestic and international demonstration zone for port and maritime management, and to enhance the international competitiveness and influence of the Guangdong-Hong Kong-Macao Greater Bay Area port cluster towards the world," said Lam Sai-hung, secretary for Transport & Logistics.
"The MoU is a concrete example of tapping the Greater Bay Area synergy to enhance mutual competitiveness. By establishing a collaboration mechanism, sharing regulatory and management standards, enhancing promotion as well as manpower exchanges, Hong Kong is set to drive the development of a world-class port cluster with high value-added maritime services," he added.
The MoU was signed via video conferencing by Liu Chun-san, acting secretary for Transport & Logistics, and Sun Xiuqing, director of GPA at the 2023 Greater Bay Maritime Conference.
John Lee, Hong Kong chief executive, noted in a pre-recorded speech at the conference that the newly-created Task Force on Maritime & Port Development Strategy is working to put forward an action plan within this year, particularly in strengthening Hong Kong's competitive edge in high value-added maritime services, to further promote the development of Hong Kong as an international maritime centre.
Lam noted that the Hong Kong Port has been a transhipment hub in the region, known for its high efficiency, strong connectivity and wide coverage, while the Guangzhou Port mainly handles domestic and foreign trade.
He added that this will enable a differential development of the ports in the two places on the principle of complementarity, collectively benefiting the manufacturing industry as well as the import and export trade in the bay area and southern China area.
The Hong Kong Special Administrative Region Government proactively enhances the maritime sector's competitiveness through various measures.
These include the development of smart port, the introduction of a series of tax concessions, the establishment of a task force to put forward an action plan on strategies to further promote Hong Kong's development as an international maritime centre, among others.