SILK WAY WEST AIRLINES GAINS IATA CEIV LITHIUM BATTERIES CERTIFICATION
May 24, 2023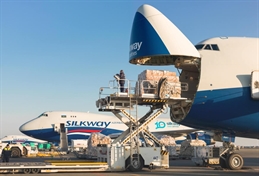 Silk Way West Airlines announced that it has secured the International Air Transport Association (IATA) CEIV Lithium Batteries certification.
"The CEIV Lithium Batteries Certification further enhances the airline's capabilities and reinforces the confidence of its customers, stakeholders and industry partners," the Baku-based cargo airline said.
It added that the certification recognizes that Silk Way West Airlines has implemented "robust processes and best practices to mitigate relevant risks and comply with stringent requirements."
"Silk Way West Airlines is committed to staying at the forefront of industry regulations and implementing all necessary measures to safeguard its operations," the cargo carrier said.
The CEIV Lithium Batteries Certification is a global standard developed by IATA to ensure the safe and secure handling of lithium batteries throughout the supply chain, and to achieve standardization and uniformity in the scope, depth, and quality of the assessments conducted.
"Our team has successfully passed all stages of certification and today we can proudly say that IATA recognizes Silk Way West Airlines' lithium battery handling and transport program as applied," said Darko Vucic, vice president, Corporate Quality Assurance & Quality Control, QMS of Silk Way West Airlines.
He noted that Silk Way West upgraded its knowledge of IATA's DGR manual implementing the latest standards and best practices related to the safe transport and handling of lithium batteries with further improvement of its safety performance by developing safety risk assessments specific to lithium batteries.

"The benefit for us, besides procedural improvements regarding the transport of lithium batteries, is to ensure that we continue to maintain the highest applicable," Vucic added.