JUNEYAO AIRLINES LAUNCHES KANSAI-BEIJING DAXING ROUTE
May 29, 2023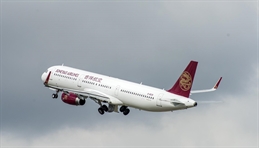 Chinese carrier Juneyao Airlines will commence new service between Kansai Airport  (KIX) and Beijing Daxing (PKX) from July 1st. 
In an announcement, Kansai Airports noted that the schedule flight will be operated once per day, departing PKX 11:30 (local time) and arriving at KIX at 15:30 (local time).
Beijing Daxing International Airport
Beijing Daxing International Airport is the newest international airport in Beijing, opened in 2019.
The massive Beijing Daxing International Airport — was earlier eyed to help decongest the existing Beijing Capital International Airport (PEK) and eventually become one of the world's busiest gateways.
Chinese state media said currently, 26 domestic airlines operate at the airport and it has opened a total of 266 air routes, connecting 185 destinations.
Over the past three years, the passenger throughput of Beijing Daxing International Airport has surpassed 52 million. Meanwhile, the airport reportedly handled over 300,000 tonnes of freight over the past three years despite the impact of the Covid-19 pandemic.
In terms of cargo, the new airport, which spans 7.5 million square feet, equivalent to about 98 soccer fields and is often dubbed the "starfish" due to its appearance, is currently the world's largest terminal in a single building and is expected to initially handle 2 million tons of cargo annually by 2025 and 4 million tons of freight per year after that.
Currently, the airport has 24 cargo freighter stands, that can handle 2 million tonnes of goods annually.
Initially, Daxing Airport was anticipated to handle 45 million passengers by 2021, 72 million by 2025 and 100 million by 2040, with an initial capacity allowing 300 take-offs and landings per hour.