SC PORTS SEES VOLUMES TRENDING UP IN APRIL
May 29, 2023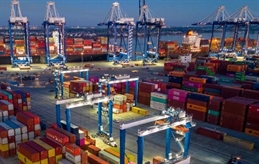 South Carolina Ports (SC Ports) saw cargo volumes ticking up in April, buoyed by the strength of the Southeast market.
In a statement, SC Ports said retail importers and advanced manufacturers are investing billions to establish and expand operations in South Carolina.
These port-dependent businesses benefit from access to a well-run port system.
"We have invested in port capacity to ensure South Carolina remains competitive," said Barbara Melvin, president and CEO of SC Ports.
"Strategically investing in port infrastructure and operations supports economic growth and jobs throughout the state."
In April, SC Ports moved 214,101 TEUs (twenty-foot-equivalent container units) and 119,572 pier containers, which account for containers of any size.
Volumes up month-on-month
SC Ports said while volumes are down 19% year-over-year as consumers continue to buy fewer goods compared to last year's massive import boom, volumes trended up 11% month-over-month.
Thus far in fiscal year 2023, SC Ports and the maritime community handled 2.18 million TEUs and nearly 1.21 million pier containers.
Fiscal year volumes are down about 9% from the same time a year prior.
SC Ports' noted that its two rail-served inland ports in Greer and Dillon handled a combined 17,177 rail moves in April, up nearly 15% year-over-year, with Dillon achieving a record April with 3,752 rail moves.
SC Ports also handled 12,957 vehicles and 25,942 cruise passengers last month.
"Thanks to our amazing maritime community, our well-run port delivers reliable service to the booming Southeast market," Melvin said.

"To support future growth, we are actively investing to increase our rail competitiveness by building a near-port intermodal hub that will further enhance fluidity for our customers."