OCEAN NETWORK EXPRESS JOINS GSBN
May 30, 2023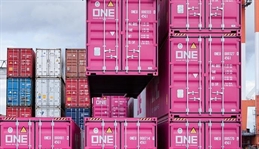 Ocean Network Express (ONE) has become the newest member of the Global Shipping Business Network (GSBN) after a successful trial of GSBN's Cargo Release with ONE's customers.
In a statement announcing ONE joining, GSBN noted how the Japanese container transportation and shipping company — one of the world's largest container carriers — has been a pioneer in upgrading its enterprise architecture and developing digital solutions to improve customer experience and continue to enhance digitalisation.
The independent, not-for-profit technology consortium building a blockchain-enabled operating system designed to redefine global trade, noted that this is important not only for the reasons of facilitating global trade and adding value to customers, but also sustainability which is an increasingly vital issue to the whole industry.  
"By joining GSBN, ONE gains access to the consortium's blockchain-enabled platform, which facilitates secure and trusted exchange of data between different parties across global shipping supply chains. This will enable trusted collaboration to enhance efficiency and create further value for ONE's customers," GSBN said.
It added that the carrier will also benefit from GSBN's growing ecosystem of members and applications on its platform including Cargo Release, which offers a paperless, highly efficient, and transparent solution connecting all parties involved at the port of import. 
"The shipping industry is at a critical moment in time where digitalisation has the potential to enable a quantum leap. What's needed to make this a success is trusted collaboration. We are pleased to be welcoming ONE who have been a pioneer in digital transformation and sustainability, and we look forward to collaborating to further contribute to the industry's digital leap," said Bertrand Chen, CEO at GSBN.
Kosuke Wada, executive vice president at Ocean Network Express, said, ONE is focused to enhance the overall customer journey through our digital services.
"With GSBN's great effort in driving digitalisation across the shipping industry, we look forward to harnessing their trusted infrastructure to accelerate greater collaboration with the industry and enable better efficiency with applications such as Cargo Release, as well as unlock new value for our customers," the ONE executive added.