NEW BOLLORÉ LOGISTICS DEPUTY MANAGER HINTS AT COMPANY'S SALE TO CMA CGM
June 1, 2023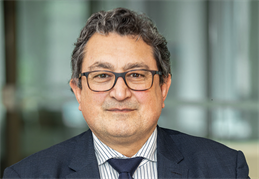 Bolloré Logistics announced that after a 33-year career with the Bolloré Group, Jérôme Petit had been appointed as Deputy Managing Director.
In the announcement, the French transport and logistics company noted that Petit brings extensive international experience to the role.
Alongside CEO Thierry Ehrenbogen, his mission is to support Bolloré Logistics's growth and expand its global network.
"Jérôme Petit has done a remarkable job throughout his previous missions, and I am convinced that he will lead Bolloré Logistics with great success. His knowledge of the company and its network represents a significant asset for employees and customers," said Thierry Ehrenbogen.

"I am fully confident in his ability to meet the challenges ahead and offer our customers ever more efficient and competitive solutions," he added.
Planned Bolloré sale to CMA CGM
Petit joined the Bolloré Group in 1990. Having started his career in the Middle East, Jérôme spent nearly 25 years in Asia.

He was involved in setting up a number of subsidiaries and managed the ASPAC region as CEO from 2004 until his return to France in 2016.
On returning to Head Office in Puteaux, he was appointed CEO of Africa at Bolloré Logistics before continuing in the same role with Africa Global Logistics until May 2023.
"I am honoured by the trust placed in me by the Bolloré Group and grateful for this new professional opportunity. The months ahead will be very full and most probably marked by a major change within our organisation," Petit said.
"The planned sale of Bolloré Logistics to the CMA CGM Group must be supported in order to prepare for the future in the best conditions and make a success of this major turning point," he added.
The Bolloré Group earlier announced that it received a put option to acquire 100% of Bolloré Logistics for an enterprise value of €5 billion euros from the CMA CGM Group on May 8.
"The Bolloré Group has accepted this put option strictly as an offer. The information and consultation procedures with the relevant staff representative bodies of the Bolloré Group pertaining to this transaction shall now be initiated," the announcement said then.
"The decision as to whether or not to exercise this put option will be taken at the end of these procedures," Bolloré Group further said.