AIR CARGO VOLUMES AT ONT FURTHER DECLINES IN JUNE
July 13, 2023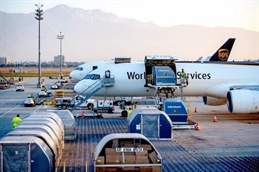 Ontario International Airport (ONT) reported another decline in air cargo volumes for June, reflecting a global trend of air freight slowdown driven by continuing challenges to global economic conditions.
ONT said shipments of commercial freight and mail totalled 61,670 tons last month, reflecting a 14% drop from the same period in 2022.
Compared to May's performance, however, June's air cargo tonnage was slightly higher than the 61,000 tons recorded that month.

"Volumes of commercial freight and mail declined by 14% in June and 10% on a year-to-date basis, consistent with lower cargo volume globally, which has been anticipated by industry analysts," the airport said.

 [Source: Ontario International Airport]


The cargo numbers seen at ONT are in contrast with the recovery in passenger volumes observed at the gateway.
Southern California's ONT set a record in June for passenger volume, welcoming more than 559,000 travellers and breaking a record set just a month earlier, gateway officials announced.
"Despite the slow-down in freight movement worldwide, Ontario International is a vital cog in the US supply chain," said Atif Elkadi, chief executive officer of Ontario International Airport Authority (OIAA). 
"Our modernized and expanded cargo facilities remain key components for shippers serving Sothern California," he added.
Year-to-date, cargo volumes at ONT reached 366,156 tons, also lower by 10.4% compared to the  408,720 tons recorded during the same period last year.