UPS LOWERS REVENUE OUTLOOK FOR 2023
August 9, 2023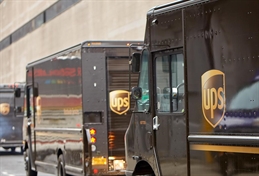 UPS has lowered its revenue outlook for the year after its second-quarter results.
The American logistics giant saw its consolidated revenues for the second quarter fall 10.9% year-on-year to US$22.1 billion.
Consolidated operating profit was also down 21.4% to US$2.8 billion and down 18.4% on an adjusted basis. 
UPS reported lower earnings due to delivery decline and increased contract costs with Teamsters — the union representing about 330,000 UPS employees in the US — resulting in reduced revenue and profit margin forecasts for 2023.
For the second quarter, UPS said revenue from its US domestic segment decreased by 6.9%, driven by a 9.9% decrease in average daily volume. In the international segment, revenue decreased by 13.0%, primarily driven by a 6.6% reduction in average daily volume and continued softness on Asia trade lanes.
Its revenue from supply chain solutions recorded the biggest year-on-year drop of 23.4% due to market rate and volume declines in forwarding, partially offset by growth in logistics, including healthcare.
UPS then slashed its financial forecast for the year as a slowdown in global delivery volumes and the fallout from a new labour contract weighed on the business.
It noted that it now expects its consolidated revenue to be lower by US$4 billion than the previously announced US$97 billion.
"UPS is updating its full-year 2023 consolidated revenue and adjusted operating margin targets primarily to reflect the volume impact from labor negotiations and the costs associated with the tentative agreement reached with the International Brotherhood of Teamsters on July 25, 2023," UPS said.
"UPS now expects full-year 2023 consolidated revenue to be about US$93 billion and an adjusted operating margin of around 11.8%," it added.
Carol Tomé, chief executive officer at UPS, emphasized the impact of the recent labour negotiations on the company's performance for the period.
"We expected negotiations with the Teamsters to be late and loud, and they were," Tomé said during the company's conference call.
"As the noise level increased throughout the second quarter, we experienced more volume diversion than we anticipated," she added.
Nonetheless, she thanked UPS employees for their hard work — and welcomed the recent deal that the company struck with its unionized members.
"We are pleased to have reached an agreement with the Teamsters. I want to thank the more than 500,000 UPSers around the world for their hard work and efforts and for once again providing industry-leading service. And a special thank you to our customers for trusting your business with UPS during our labour negotiations," Tomé said in a separate statement.
"UPS is stronger than ever. Looking ahead, we will stay on the strategy to capture growth in the most attractive parts of the market and make our global integrated network even more efficient," the UPS chief executive added.