CATHAY EXPECTS SOME PEAK TONNAGE INCREASE; E-COMMERCE GROWTH TO CONTINUE
August 22, 2023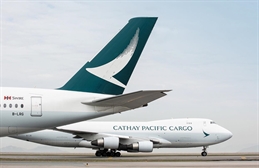 Cathay Cargo is "cautiously optimistic" about the upcoming peak season forecasting some tonnage growth despite the overall industry slowdown the past months, and a boost from its e-commerce segment.
Frosti Lau, GM Cargo Service Delivery, noted that this is the time of year that the air cargo carrier keep a close eye on how the traditional peak will shape up to be able to serve market demand better.
"We are cautiously optimistic, and we have been buoyed by the Cathay Group's encouraging half-year results," Lau said in a recent Cathay Cargo newsletter.
The Cathay executive noted that the first six months of 2023 showed a return to profit of HK$4.3 billion (US$548 million), compared with a half-year loss of HK$5.0 billion (US$637.5 million) in 2022.
Lau said this recovery from pandemic challenges reflects the Group's returning passenger capacity, which remains on course to equal 70% of pre-pandemic capacity by year-end, with a full return by the end of 2024.
Nonetheless, Lau said this growing belly capacity, and that in the overall industry, is dampening yields, especially in combination with a softening global market.
This has caused Cathay Cargo revenues to fall 11.6% against the highs of the first half of last year — but Lau noted that's set against a 117.6% growth in capacity.
Tonnages for the first half of 2023, however, were up 23.8%.
"This shows marked stability, underpinned by steady growth in e-commerce from our Greater Bay Area extended home market. We expect this to continue, with some tonnage increase for the peak," Lau added.
Irrespective of the market, the Cathay Cargo executive said the carrier continue to develop its services and solutions including this month's launch of Cathay's enhanced Mail Solution, which brings greater transparency, predictability and accountability with its "mail as cargo" platform for postal clients.
Cathay Cargo also introduced its latest container option for Cathay Pharma — SkyCell's 1500X — an active-hybrid container.
"Finally, we go behind the scenes in Hong Kong to meet the OCC (Operations Control Centre) team, which is setting new standards in shipment care. This is a project that is very close to my heart, and it's one of the many initiatives introduced in recent years that have demonstrated our real ambition to become the most customer-centric air-cargo service brand," Lau said.
New role as Regional GM South West Pacific 
Meanwhile, Lau announced that he is moving to a new role as Regional General Manager South West Pacific for Cathay as he reminisced on the accomplishments of Cathay in helping maintain Hong Kong's status as the leading air cargo hub.
"So it is goodbye but not farewell. I'll be based in Sydney, just a few hours from Hong Kong, and cargo has always been a very important part of our South West Pacific outbound business. I look forward to keeping up with Cathay Cargo's developments," Lau said.