HAPAG-LLOYD SAYS IT'S OUT FROM THE BIDDING PROCESS FOR HMM
September 8, 2023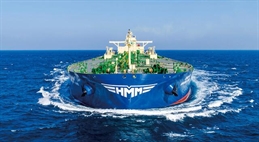 Hapag-Lloyd said it is no longer part of the bidding process for the acquisition of a majority stake in South Korea's largest container line, HMM.
Rolf Habben Jansen, chief executive officer of Hapag-Lloyd, confirmed that the carrier had been excluded from the next parts of the bidding process, saying that HMM is pursuing the deal with other parties.
"We are out of that process," Jansen told reporters in a recent press briefing.
"We felt we should raise our hand because we could be a good partner for HMM, but they've chosen to pursue that with other parties, and we knew that that was not an unlikely outcome," the Hapag-Lloyd chief executive added.
The Hamburg-based ocean carrier's move to bid for HMM has earlier been met with backlash from South Korean industry groups citing "perspective of the national economy and security."
The Federation of Korea Maritime Industries (FKMI) and the Busan Port Development Association (BPDA) have raised concerns about foreign control of South Korea's flagship container carrier.
"If we sell HMM to Hapag-Lloyd, we're concerned about the outflow of invaluable national assets, such as our country's container transport assets, terminals and know-how accumulated over decades. We're angry that Hapag-Lloyd could even be included among the preliminary bidders," FKMI and BPDA said earlier, noting that HMM is an "indispensable asset to our export-oriented economy."
"In the name of five million families who depend on the maritime industry, we urge that the sale of HMM to an overseas party be blocked to stabilise our country's supply chain," the groups added.
On July 20, Korea Development Bank (KDB) and Korea Ocean Business Corp announced an invitation for bids for their stake in HMM, which amounts to nearly 40% of the company's shares.
In addition to this, KDB has plans to convert some of its HMM convertible bonds into additional shares, which could raise the state stake to 57.87%.
According to Alphaliner, the starting bids for HMM are expected to be around US$3.9 billion.