DIMERCO UNVEILS NEW BONDED WAREHOUSE IN TAIWAN
September 13, 2023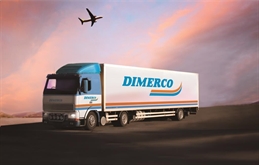 Dimerco has unveiled a new bounded warehouse in Taiwan as demand for distribution centres in the region continues to grow.
The global freight forwarder said it is adapting to the changing supply chain strategies of major high-tech companies by opening its second bonded warehouse within the Taiwan Taoyuan International Airport Free Trade Zone (FTZ) on September 12.
"In response to the increasing number of distribution centres being established in the APAC region to be closer to suppliers, Dimerco's new facility is part of a one-stop logistics solution for air and ocean freight, bonded warehousing and trade compliance," Dimerco said.

It noted that the solution is primarily aimed at high-tech companies operating in Taiwan — the epicentre of global semiconductor manufacturing.
Dimerco said its new location offers companies a huge cash flow advantage as supplier inventory entering Taiwan can be stored duty and tax-free until the inventory ships out.

 [Source: Dimerco]

For finished goods being manufactured in Taiwan these can be stored in the bonded warehouse duty and tax-free until they are sold and shipped out.
The new bonded warehouse within the Taoyuan International Airport FTZ spans nearly 48,000 square feet on the 3rd floor of Building C.
Dimerco said it offers customizable shelving options, 10 storage bays, and large floor space to accommodate e-commerce clients with extensive picking and pac
king operations.
The global freight forwarder noted that it is one of the few 3PLs in Taiwan that, by serving as Importer of Record (IOR), can offer a tailored FTZ solution for international customers that do not have a local presence.

[Source: Dimerco]


"Regardless of the client's requirements, Dimerco can oversee the entire warehousing and shipping process, coordinating everything from trucking and warehousing services to collaborating with logistics partners, streamlining financial transactions, and facilitating information flow between customers and IT teams by integrating with the customer's WMS (warehouse management system)," Dimerco said.

It added that by acting as a single point of contact, Dimerco allows customers to concentrate on their core competency of product R&D. They can manage warehouse space during peak seasons and adjust it as needed. Dimerco can also perform quality testing before pick and pack, create custom labels with serial numbers and manufacturing dates, and coordinate repalletization for multiple delivery notes to optimize material flow to the end customer.
Dimerco's experienced project and IT teams assist clients in setting up their EDI (Electronic Data Interchange) for efficient order transmission, inventory comparison, and streamlined goods received/issued processes. This improves transparency in tracking and tracing shipments with couriers like FedEx and DHL.
"We recognized the growing trend of US-based companies seeking to establish distribution centres in Taiwan to serve the APAC region. Leveraging Dimerco's extensive global network, we were well-positioned to establish a bonded warehouse and utilize our capabilities as a one-stop partner, handling all aspects of consignments from airfreight, ocean freight and warehousing to eCommerce requirements and last-mile custom delivery," said Dimerco's Central Service Center (CSC).