GUILLAUME HALLEUX MOVES TO SWISSPORT AS CHIEF COMMERCIAL OFFICER
September 19, 2023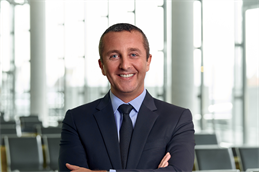 Former Qatar Airways chief officer cargo, Guillaume Halleux, has joined Swissport as chief commercial officer, effective September 18.
In the announcement, Swissport said Halleux will maintain an open customer dialogue to build trust-based long-term partnerships with airline clients and ensure expectations regarding operational excellence are met in close collaboration with regional business leaders.
"Effective September 18, 2023, Guillaume Halleux joins Swissport International AG from Qatar Airways as Chief Commercial Officer and member of the executive leadership team," Swissport said.
The Swiss ground services and air cargo handling provider said Halleux will execute Swissport's commercial agenda in developing existing and building new client relationships and driving the acquisition of new business. 
"We are delighted to welcome Guillaume as our Chief Commercial Officer," said Warwick Brady, president & CEO of Swissport International AG. "Our growth plan and the company's strategic outlook as the global market leader attract the best talent in the industry."
Brady noted that Swissport's management team consists of a complementary group of executives with experience in ground handling and the airline industry.
"It allows us to understand what airlines want and meet their expectations. This understanding is instrumental in fostering successful partnerships," he said.
Halleux brings over 25 years of experience and joins Swissport from Qatar Airways Cargo, where he served as Chief Officer of Cargo at the airline's Doha head office. Prior to that, he served as the airline's vice president of cargo Asia Pacific.
Swissport noted that it is its ambition to anchor its brand as the go-to service partner for airlines worldwide.
"Swissport's executive team has a thorough understanding of what airlines seek, and this makes us the partner of choice for airlines that seek the stability of reliable, safe and cost-efficient operations. Swissport delivers best-in-class value for money — for global network airlines and low-cost carriers alike," the statement added.
Ramp handling, passenger services and air cargo handling are Swissport's large, strategic service categories and revenue contributors.
They are also pivotal for top-line growth and often the steppingstone for developing client relationships into adjacent areas like aviation fueling, load control, lounge hospitality and executive aviation.