PSA INTERNATIONAL CEO SET TO RETIRE IN MARCH 2024; NEW CHIEF EXECUTIVE ANNOUNCED
October 12, 2023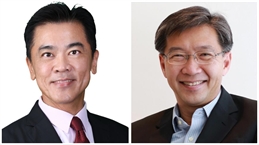 PSA International Pte Ltd (PSA) has announced that Tan Chong Meng will be retiring from his positions as the company's Group CEO and Board Member with effect from March 1, 2024.
In line with succession plans, Ong Kim Pong, currently the Regional CEO of Southeast Asia at PSA International, will assume the role of Group CEO and be appointed to the PSA International Board.
Meanwhile, the announcement said Nelson Quek, current managing director of the Container Business Division in PSA Singapore, which is the global group's flagship business unit, will take over the reins as regional CEO of Southeast Asia. He will also become a member of PSA's Senior Management Council.
"Chong Meng has led PSA from strength to strength as Group CEO for 12 years. On behalf of the Board of Directors, Management, Staff and Unions, I would like to express our heartfelt gratitude to Chong Meng for his exemplary leadership, vision and dedication," said Peter Voser, Group Chairman of PSA International.
He noted that under his steer, the PSA Group's footprint has expanded from 17 to 43 countries worldwide, and the business has diversified to serve a wider audience.
"At the same time, I am happy to announce that Kim Pong will be taking over the reins as PSA's Group CEO. A well-respected professional with almost three decades of experience in our operations across the world, including Southeast Asia, Europe, the Mediterranean and Northeast Asia, Kim Pong has a deep understanding of PSA's business and is well-placed to helm the organisation's continued transformation journey and growth," Voser added.
"I am also grateful for Chong Meng and the Senior Management team who will support Kim Pong to ensure a smooth transition of leadership in the coming months."
The PSA Group chairman also welcomed Quek to the senior management team as PSA's upcoming Regional CEO of Southeast Asia. 
"Nelson's decades of rich experience in PSA have contributed significantly to the growth of our Singapore flagship as the world's busiest transhipment hub, and in particular, the development of Tuas Port. I have full confidence that he will be able to lead the regional team towards greater heights," Voser said.
Tan Chong Meng, for his part, said it had been a "great honour" to lead PSA.
"I would like to extend my appreciation to all our customers, partners and stakeholders who have stood by us over the years and supported PSA in our many endeavours. After more than a decade of spearheading PSA's growth and transformation, I feel that this is a timely juncture for leadership renewal, and know that Kim Pong and the senior management team will be able to take PSA to the next level," he said.
"I look forward to following their new accomplishments into the future. My warmest and most heartfelt thanks to our Group Chairman and the Board, and the Management, Staff and Unions around the world whom I have had the privilege to work with – your dedication and steadfastness have been the wind beneath PSA's wings all these years."
Ong Kim Pong said he endeavours to build on Chong Meng's contributions to the organisation by expanding its core business in ports and logistics and strengthening relationships with customers, partners and stakeholders.
"Together, we will continue PSA's transformation into a supply chain leader and global catalyst of sustainable trade," he said.
Chong Meng joined PSA as its Group CEO on October 1, 2011. 

PSA noted that Kim Pong has the distinction of being one of PSA's "pioneer leaders" in its early international growth phase. Over the course of his career at PSA, he has played a vital role in contributing to the expansion of the Group's global port network and services as well as furthering its sustainability and digitalisation initiatives. For the last eight years, Kim Pong has been PSA's Regional CEO for Southeast Asia.
Meanwhile, Quek's professional career in PSA began in 1993 as a mechanical engineer. He was one of the pioneers in port automation in piloting and introducing overhead bridge cranes — a first in the world at that time — in terminal operations.