FEDEX BEGINS TRIAL OF RENEWABLE DIESEL TO REDUCE CO2 EMISSIONS IN LINEHAUL TRUCK
October 26, 2023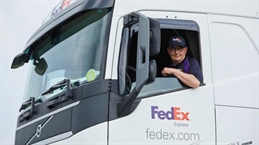 FedEx Express Europe, a subsidiary of FedEx Corp., has begun trialling hydrotreated vegetable oil (HVO) renewable diesel to fuel five of its company-owned trucks in the United Kingdom.
In November last year, FedEx Express launched the use of renewable diesel to fuel heavyweight, long-distance vehicles in the Netherlands as a more environmentally favourable alternative to fossil fuels.
In a statement, it noted that with the deployment of this new 100% HVO fuel, the UK becomes the next part of the FedEx network in the region to start trialling the use of renewable fuel.
"The decarbonisation of the heavyweight transport sector is recognised as more challenging than the parcel pick-up and delivery sector, where FedEx Express has already outlined its goal to transition to a fully electric fleet by 2040," FedEx said in a statement.
It added that finding a viable energy alternative to fossil fuels is more difficult with bigger vehicles that also tend to travel longer distances.
"Using synthetically-made diesel offers an interim solution with the promising ability to drive down 'well-to-wheel' carbon emissions by as much as 80-90% per litre," said Louise Whitehouse, managing director of Fleet Maintenance, FedEx Express Europe.
"It means that while other technological solutions are still being developed to help the industry transition away from using fossil fuels altogether, we can already make decisions to influence and reduce our scope one carbon emissions in our linehaul truck network – those generated by our owned vehicles," he added.
The FedEx goal announced in March 2021 to achieve carbon-neutral operations globally by 2040 includes all FedEx-owned and operated transportation, including parcel pick-up and delivery, its extensive European linehaul truck network, and aircraft.
It also includes the company's scope three emissions that are generated by contracted transportation services that play a part in the FedEx network.