KOREAN AIR EXPECTS YEAR-END INCREASE IN AIR CARGO DEMAND
November 14, 2023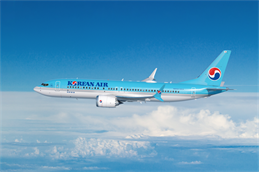 Korean Air expects a year-end increase in cargo volumes driven by the traditional peak season demand and a boost from other verticals.
The South Korean flag carrier said in order to maximize revenue, it plans to further attract e-commerce and cater to seasonal demand.
"In Q4, the airline expects increased air cargo demand from the year-end season despite growing global economic uncertainties caused by factors such as the US Federal Reserve's prolonged monetary tightening policies," Korean Air said in a statement.
The forecast came as the carrier reported a decline in its cargo business in the third quarter due to a lack of demand.
Korean Air's cargo business revenue fell by 51% year-on-year to KRW 915.3 billion (US$706.7 million).
"The business was affected by the low demand during the non-peak season," the airline said. It noted, though, that this quarter's performance was a lot higher than the third quarter in 2019.
"When compared to Q3 in 2019 pre-pandemic, revenue increased by 43%," Korean Air said.
Overall, the airline achieved a revenue of KRW 3.8638 trillion (US$2.873 billion) in its third fiscal quarter, a 5% year-on-year increase following the steady recovery of travel demand.
However, the rise in fuel prices and increase in operation costs due to expanded aircraft operations led the airline to post a decreased operating profit of KRW 520.3 billion (USD 387 million) year-on-year.