US COMMITS US$553M FOR NEW SRI LANKA CONTAINER TERMINAL
November 15, 2023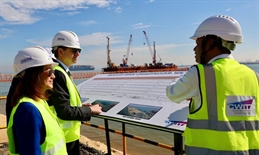 The US International Development Finance Corporation (DFC) has committed more than half a billion dollars to support the development of a deepwater shipping container terminal in the Port of Colombo, Sri Lanka, the largest and busiest transhipment gateway in the Indian Ocean.
DFC said in the announcement the project — which is the US government agency's largest infrastructure investment in Asia — will help boost Sri Lanka's economic growth and "its regional economic integration, including with India."
Scott Nathan, chief executive officer of DFC, travelled to Sri Lanka to launch the US$553 million in financing to Colombo West International Terminal Private Limited to support the development of the deepwater West Container Terminal located within the Port of Colombo. 
"DFC works to drive private-sector investments that advance development and economic growth while strengthening the strategic positions of our partners. That's what we're delivering with this infrastructure investment in the Port of Colombo," he said.
Nathan noted that "Sri Lanka is one of the world's key transit hubs, with half of all container ships transiting through its waters."
"DFC's commitment of US$553 million in private-sector loans for the West Container Terminal will expand its shipping capacity, creating greater prosperity for Sri Lanka — without adding to sovereign debt — while at the same time strengthening the position of our allies across the region," the DFC chief added.
DFC is working with John Keells Holdings and Adani Ports & Special Economic Zones Limited (APSEZ).
The Port of Colombo has been operating at more than 90% utilization since 2021, signalling its need for additional capacity.
The announcement said the new terminal will cater to growing economies in the Bay of Bengal, taking advantage of Sri Lanka's prime position on major shipping routes and its proximity to these expanding markets.