TIACA RE-ELECTS STEVEN POLMANS AS CHAIRMAN
November 17, 2023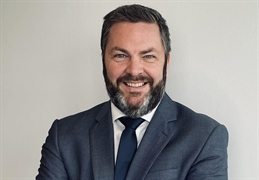 The International Air Cargo Association (TIACA) announced that Steven Polmans had been re-elected and will remain its chairman for the next two years following the results of its executive elections for the 2024-2025 term.
The association — which represents, supports, informs and connects every element of the global air freight supply chain — said following a change to the Governance rules, two vice chairs have been elected, Emir Pineda and Roos Bakker.

"Following a successful four years serving the membership and industry, TIACA is pleased to announce that Chair Steven Polmans will continue his work at the association's helm for the next two years," the announcement said.
It added that Emir Pineda of Miami International Airport and Roos Bakker of Amsterdam Airport Schiphol have been elected to serve as co-vice chairs and will also take on the role of secretary and treasurer.

The TIACA Trustees also agreed on a revision to the bylaws facilitating extended Board mandates, including a possible third term for the chair and vice-chair. The Board of Directors then elected an additional term for the current Chair to ensure there was stability of leadership and a long-term focus at the Board level.
"The changes to the Bylaws now require that there are two vice chairs who will work alongside each other and the chair to ensure a smooth transition when the time comes to elect a new chair," the announcement said.
It added that the Board has "complete confidence" that this will facilitate even greater success for the association in its objective to support the industry. 

"Receiving the Board of Directors re-appointment is deeply appreciated, and I'm thankful for their unwavering support. Both the industry and our association have a lot on their respective plates, and I am dedicated to ensuring that we continue to serve our members and the industry effectively," said Polmans.
He noted that focus will be maintained on membership, advocacy, partnerships, knowledge, sustainability, and events.
Glyn Hughes, director general of TIACA noted that the TIACA Board has "aggressively pursued a new strategic direction for the association following the transformation program commenced in 2020."
"Strong governance, which is continually reviewed, ensures the Association is run with the highest standards possible for the benefit of its members," he said, noting that association neutrality and financial viability are established in the Association bylaws, which are under the purview of the Trustees.
"Association programs are designed to support the industry with key challenges in the areas of sustainability, digitalization, market intelligence, and people issues, including the need for an inclusive and diverse workforce as well as critical focus on safety, security, innovation, and collaborative partnerships."
"Collectively the programs are designed to meet the needs of our members, who are the real drivers of this association," Hughes, added.